Ingredients: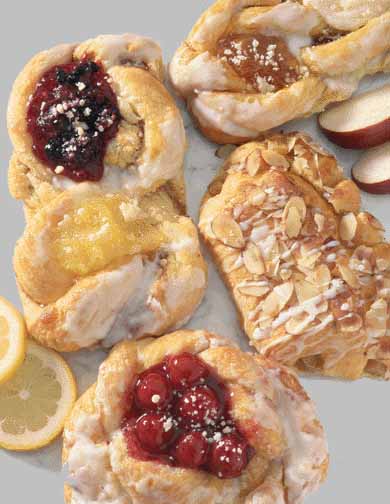 2 rolled out sheets of french pastry (or six frozen pie crusts)
1 egg beaten
1/3 cup plus 1 Tbsp of sugar
3 medium McIntosh Apples pared, cored and sliced
1/2 tsp of cinnamon
1/2 tsp of lemon rind
2 Tbsp of raisins (optional)
6 tsp of apple jelly melted
1 Tbsp of chopped pistachios (optional)
Directions:
Preheat oven to 350 degrees
Thaw pastry at least 20 minutes (if using frozen pie crusts). Otherwise use recipe for frozen pie crusts below.
Cut approx 10 pastries to 10 x 4 inch size pcs saving one for the top and the other for the bottom.
Paint with beaten egg and sprinkle with sugar.
Prick and bake 12 minutes; cool.
Combine apples with remaining sugar, cinnamon, lemon rind, etc.
Toss apples until coated.
Arrange apples making chevron pattern in center of dough.
Wrap dough around apples pinching closed; flute edges.
Place on lightly greased cookie sheets.
Bake 15 minutes at 350 degrees until brown and puffed.
Brush with apple jelly and sprinkle nuts.
Tip: Want to know more about the person who contributed this recipe?
Run your mouse over the graphic top right.