Ingredients: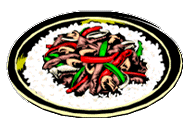 1 lb thinly sliced beef
(eye round roast)
Note: Ask butcher to cut it for you.
4 tbsp sugar
2 tbsp sesame oil or olive oil
6 tbsp soy sauce
2 tbsp sesame seed
1 tbsp flour
1 green onion sliced
1 clove of garlic; minced
1/8 tsp vinegar
5 cups of white cooked rice
(see directions below in yellow frame)
Directions:
Combine all ingredients.
Add beef to marinate and refrigerate for at least 4 hours.
Remove meat from the marinate and simmer to brown both sides on lowest flame for about 6-7 minutes.
Then add marinate to heat with meat simmering a few more minutes. This way you don't loose any of the sauce thru evaporation or overcooking.
Stir frequently.
Serve over hot white rice.
Tip: Want to know more about the person who contributed this recipe?
Run your mouse over the graphic top right.