Ingredients: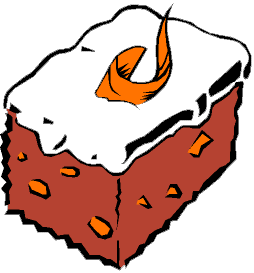 2 cups sugar
1-1/2 cups oil
4 eggs
3 cups flour
2 tsp salt
2 tsp baking soda
2 tsp baking powder
2 tsp cinnamon
2 cups pumpkin
1-1/2 cups milk
8 ozs cream cheese
1/2 cup (1 stick) margarine
1 box (2 lbs) 10X or powdered sugar
1 tsp vanilla extract
1/8 cup of milk (if necessary to make creamy)
Directions:
Grease and flour a 9 X 13 Pyrex dish. (Put aside.)
Blend sugar, oil and eggs in extra large bowl.
Mix in gradually to the above mixture the flour, salt, baking soda, baking powder and cinnamon.
Add 2 cups pumpkin.
Add 1-1/2 cups milk (will be thin)
Mix with beater.
Bake at 325 degrees for 50 minutes. (You'll smell it. Yummy)
Do the clean knife test for doneness.
Cool on rack.
Note: This makes 3 layers or use a 9 X 13 pyrex dish, which is what I always use. (Option: You can add 1 cup pecans and 1/2 cup raisins.)
Mash butter (room temperature) until soft and creamy.
Add 8 ozs of cream cheese (room temperature) to butter and mash together until creamy.
Add gradually the entire box of 10X (powdered) sugar mixing thoroughly until creamed.
Add 1 tsp vanilla extract.
Add 1/8 cup milk if necessary for creaminess and easy spreading.
Tip: Want to know more about the person who contributed this recipe?
Run your mouse over the graphic top right.