Ingredients: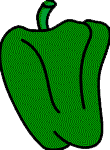 4 peppers large or 6 small
1 lb of ground beef
1/2 cup chopped onion
1/4 cup catsup
1 cup catsup (reserved for later)
1/3 cup raw rice
2/3 cup water
4 carrots, peeled and cut in 3 in pcs
Directions:
Wash green peppers; drain well.
Cut off tops and salt cavities lightly.
Combine in medium bowl:

ground beef
rice
2/3 cup water
1/2 cup chopped onion
1/4 cup catsup

Add salt and mix well.
Stuff green peppers 2/3 full.
Arrange stuffed peppers in Crock-Pot (may be stacked).
Arrange carrot pcs to help support peppers.
Pour in 1 cup catsup (or tomato sauce) and 1/2 cup water.
Cover and cook on Low for 6 to 8 hrs or High for 3 - 4 hrs.
Around last half hour, add 3 cups of water and 1-1/2 cups of rice.
Serve on bed of rice and pour tomato sauce from crockpot over peppers.
Tip: Want to know more about the person who contributed this recipe?
Run your mouse over the graphic top right.