Ingredients: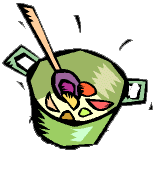 1 can Campbell's Cream of Mushroom Soup
1/2 cup milk
1 can (7 oz) tuna, drained and flaked
2 cups cooked noodles
2 TBsp chopped parsley
2 TBsp bread crumbs
Directions:
Stir soup until smooth in 1-qt casserole
Blend in milk.
Stir in tuna, noodles, and parsley.
Top with bread crumbs.
Dot with butter.
Bake at 350 degrees for 30 minutes.
Makes 4 Servings.
Tip: Want to know more about the person who contributed this recipe?
Run your mouse over the graphic top right.